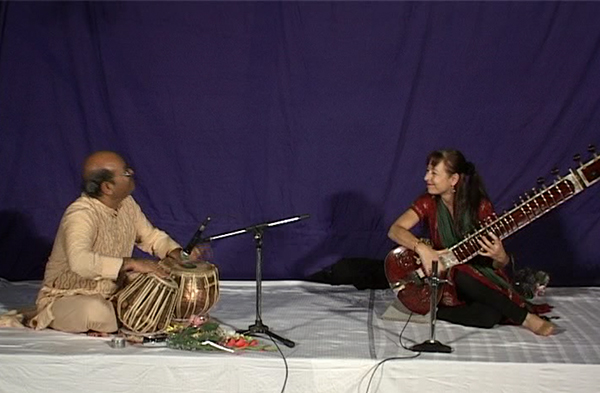 Concert at Bangalore with Pt Ravindra Yavagal
Brigitte Menon spent more than twenty years in India (Benares, Calcutta, Bhilai, Delhi) to learn the art of raga from the greatest masters of sitar. She belongs to the tradition called the Imdadkhani Gharana, the most prestigious lineage of sitarists in India.
She also attended the musicology courses of Dr Prem Lata Sharma at Benares Hindu University (B.H.U.)
Great masters of vocal music have enriched her musical learning: in Calcutta with Pt. Bimala Prasad Chatterjee of Rampur Gharana, in Delhi with Pt. L.K. Pandit of Gwalior Gharana, in Mumbai with Pt. Baban Rao Haldankar of Jaipur-Atrauli Gharana and in Bhopal with Gundecha Brothers (Dhrupad).

Her music caught the attention of the great Sir Yehudi Menuhin who named her a laureate of his foundation. It is a unique distinction since it is normally reserved for Western classical music. He then regularly invited her to play at music festivals that he organized until his death.

She experimented with success in Jazz fusion music with the American trumpet player Graham Haynes and his Ethnotronic Church.
She then recorded 3 albums with the group Mukta under the label of Warner-Jazz. Two of the albums were nominated (2000 and 2001) for the Victoires de la Musique in France. She founded the group Aumja with the saxophonist Doudou Gouirand and recorded the album "Mythologies", which was acclaimed by the press.

She composed and played the music for "Mahabharata" staged by the writer, scriptwriter and actor Jean-Claude Carrière.

She has played music for unusual events such as Naomi Campbell's concert at Bercy, Paris, for Kenzo's fashion show ...

Active as a teacher, she taught Indian music for a few years at JAM, the regional jazz school in Montpellier, with all instruments: trumpet, clarinet, trombone, piano, double basse, guitar, flute, vocal etc ...
She has done workshops, master classes and courses in various places: at CEFEDEM, universities, libraries, cultural centers and music schools.

She teaches in Montpellier and has students around the world thanks to Skype!